As someone who tries to #RespectTheBird and avoid all things Christmas before Thanksgiving, I applauded REI for deciding to close on Black Friday and encourage its employees and the rest of us to #OptOutside. My favorite outdoor activity is running, but I have to admit that my motivation has waned as the mornings have gotten darker and colder. The RunChatHunt has come along just in time to give me another reason to lace up my shoes and get outside.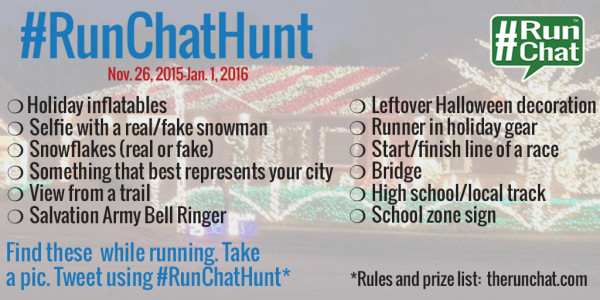 So, what is RunChantHunt? RunChatHunt is a running scavenger hunt going on from today through January 1. Find the items on the list while you're out on a run, snap a picture and share on Twitter using the #RunChatHunt hashtag. Creative interpretations and fun photos are encouraged. I'm in it for the fun, but there are lots of great prizes from RunChat sponsors–see the list and read all the rules at TheRunChatHunt website.
Here's a peek at my entries from last year.
This slideshow requires JavaScript.
If you like to refuel with Starbucks after a run like I do, make sure you enter my Holiday Giveaway, and don't forget to join us next weekend for the last Ultimate Coffee Date of 2016!
How do you like to get outside in December?