The last Christmas cookie has been eaten, the Christmas ham has been turned into soup, and the Christmas dishes have been put back in the cupboard. While I enjoy the chaos of Christmas, I also enjoy putting my house back in order come January 1.
January 2 means back to work and back to my normal routine–including my "normal" eating habits. While I was pretty good at keeping up with my fitness routine over the holidays, I ate more than my share of said Christmas cookies and said ham–not to mention my mom's cornbread stuffing, my daughter's apple pie, and that cranberry pound cake (you can find that recipe here). I know from experience that crash diets don't work for me, so I have set some simple daily goals to get back on track.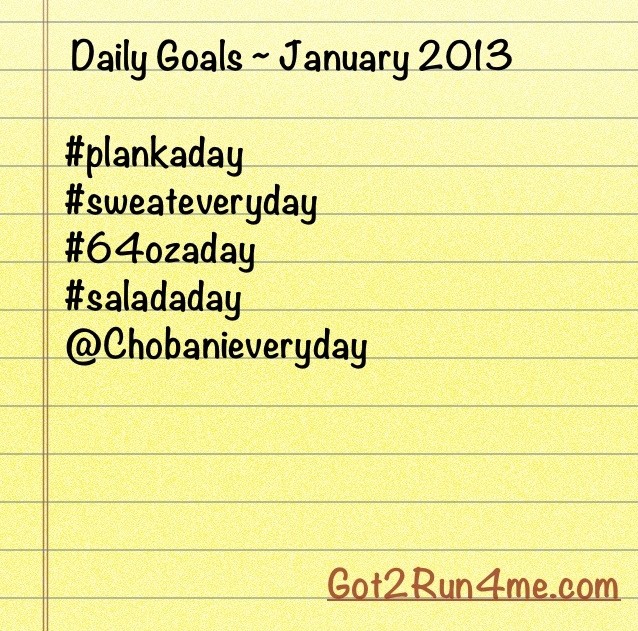 #plankaday = Physical therapy taught me that a strong core is important to injury-free running. I don't need more motivation than that!
#sweateveryday = In December, I made an effort to do 30 minutes of cardio every day. I plan to keep that up in January.
#64ozaday = I am ashamed to admit how little water I've been drinking lately. Some days I took the first sip from my water bottle with my lunch. :-/
#saladaday = I used to routinely eat two salads a day–one with lunch and one with dinner. I got busy lazy over the holidays, but I know that having at least one salad a day will go far to improve my diet.
@Chobanieveryday = I usually have a Chobani for a mid-morning snack at work, but over the holidays I have been opting for a Christmas cookie or slice of cranberry pound cake instead. Getting back to my Chobani habit will help me avoid that sugar crash that left me ravenous well-before lunch time.
I also am trying to keep up with Amanda's "Golden Morning" challenge (the January goal for the 2013 #bestfoot challenge that she is hosting at Run To The Finish).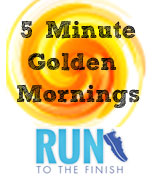 I am starting my day with these simple words of praise:
This is the day the Lord has made. Rejoice and be glad in it.
Have you set any daily goals for January?