Today I did the longest run of my Zooma Half Marathon training program–12 miles. I wasn't too nervous about it, but I did make yesterday a very light exercise day (the 35 min Beth Shaw YogaFit program), resisted the temptation of an afternoon Starbucks to increase my odds of getting a good night's sleep, and made sure I ate enough but not too much to avoid tummy troubles.
When I got home from work, I saw that my latest (and last!) pair of compression short had arrived:
CW-X® STABILYX VENTILATOR SHORT™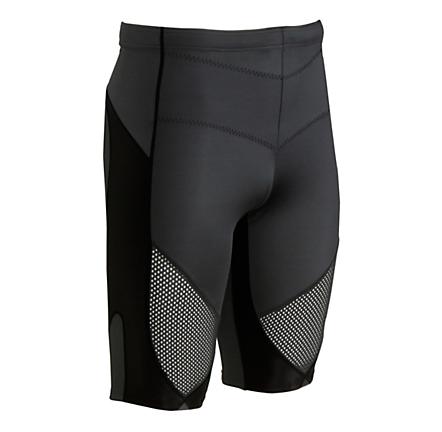 I saw these when I was at a running store, but they didn't have my size, so I placed yet another order from RoadRunnerSports. (I am finally getting my money's worth out of that VIP Membership I've had for years!)
The description on the website
Run strong and run cool in the women's CW-X® Stabilyx Ventilator Short™. This running tight short features ventilating panels in the quad area to allow excess heat to escape. At the same time, the CW-X® Stabilyx Ventilator Tight uses the ultimate advanced compression design to reduce muscle fatigue by supporting muscles, IT Band, and hip joints, and improving circulation.
isn't quite as enticing as the features highlighted on the package
Acts as an exoskeleton to provide extra core support
Improves movement efficiency and precision
Engages hamstring and quadriceps muscles
Reduces muscle fatigue
I was a bit concerned about wearing new shorts on a long run, but this post from Michelle reminded me that this long run was a good time to test out my gear for the half.
As is often the case, I woke up before my alarm. I decided to get ready and head out because while it wasn't raining yet, I know rain showers were on the way. I squeezed into the shorts and also put on my Zensah® compression sleeves.
Can we call this a new trend of "functional fashion"? 😉
I decided that I would rely on Gatorade for mid-run fueling, and so I ate a bit more than usual for my pre-run breakfast: a chocolate Muscle Provider protein shake and both bars in the package of Cliff crunchy peanut butter granola bars.
I had gotten up so early that my alarm (which is on my phone) went off as I pulled into a parking space at the bike path! When I started out, it was overcast and just drizzly enough to make me put on my super-lightweight Brooks® running jacket. My legs felt a bit heavy, but I figured that was just the super compression action of the shorts.
I managed to keep a steady, easy pace for the first few miles. After I stopped at mile 3 to tighten my fanny pack I started out too fast, but I found my easy pace again at mile 4. To end up with a 12 mile run, I ran 2 miles past my usual turn-around for an 8 mile run. When I had done that extra four miles, I felt myself naturally picking up my pace–there's just something about being on familiar territory, even if I had 4 more miles to go.
I did notice the feel of the shorts. My ITB was quiet, but whatever *issue* I have in the piriformis area was nagging a bit. I felt the support of the "exoskeleton" structure, but wasn't sure that the image of a beetle (isn't that context where I first learned that word?) was very empowering!
When I had about 2.5 miles left to go, the misty drizzle turned into light rain, but I managed to stay relatively dry under the cover of the trees. I started thinking about the "conversation" I'd had last night on Twitter with @runnrgrl about ice baths, and caught myself thinking that an ice bath actually might feel really good. I hit mile 12 at 1:56 and had just enough time to walk back to my car (about 1/3 mile) and do a few stretches before it really started raining.
By this time, I had decided to try an ice bath. Luckily @runnrgrl was on Twitter so I could get a few more instructions. I stopped at the grocery store for some ice, and at Starbucks for some coffee. When I got home, I told my husband I was going for it–I mentioned the possibility last night while were watching a show about rugby players and their use of a special cryotherapy chamber for recovery–and headed upstairs.
I ran cold water into the tub, traded my running shirt for a big sweatshirt, and climbed in (still in my shorts, compression sleeves and socks). I dumped in the ice, looked at the clock, drank my coffee, and played on my iPhone to keep my mind off the cold. Honestly, it wasn't that bad. Really, it felt kind of good.
Garmin Data
Total Distance: 12.03 miles
Total Time: 1:56:35
Average Pace: 9:42 min/mile
Split times: 10:03, 9:54, 9:52, 9:25, 9:47, 9:37, 9:48, 9:45, 9:35, 9:27, 9:44, 9:22
Have you taken an ice bath?
Do you have any tips?
Articles from Runner's World and Running Times suggest a water temperature of 50-60F and an immersion time of 15-20 minutes.